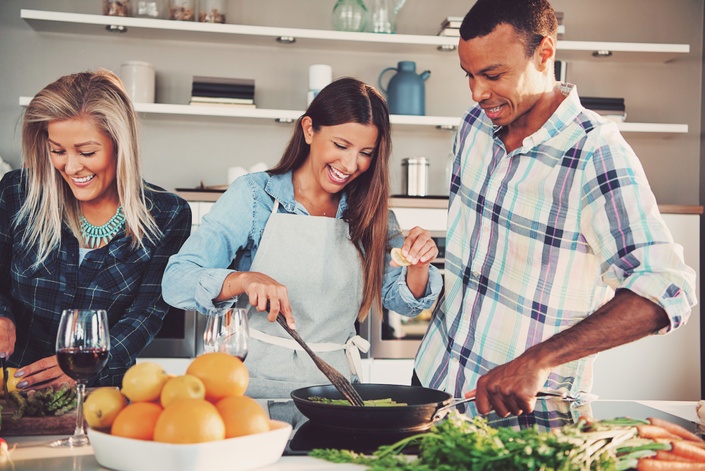 Cooking Class Success: The Savvy Instructor
Get the exposure you want and the sales you deserve.
How would it change your business if you were confident in your ability to sell tickets for any class you chose to run?
Does this ring a bell?
Feeling Overwhelmed. Your business is running cooking classes, but you're so overwhelmed trying to fill them, you seem to spend more time doing that than actually thinking about your classes.
Unsure of how to move forward. You're doing everything you can think of, but things just aren't taking off...every step seems to be a struggle.
Faced with empty seats. There's nothing worse than putting a ton of effort into a workshop or class and having hardly anyone show up, or barely breaking even when you're working so hard!
Losing your steam. You started out so passionate, and because things have been so hard you're wondering if you're really on the right path…
If any of the above have you catching your breath and feeling like, 'that's me…' you're in the right place.
What's Included In The Course….
22 lessons divided into 4 comprehensive modules

65+ instructional videos that will teach you key concepts

55+ "How to" videos that will help you implement what you are learning

20+ workbooks to help you convert learning into action

A 1-1 30-minute consult specific to YOUR business

4 live Q &A Group calls

24 months of access to all course content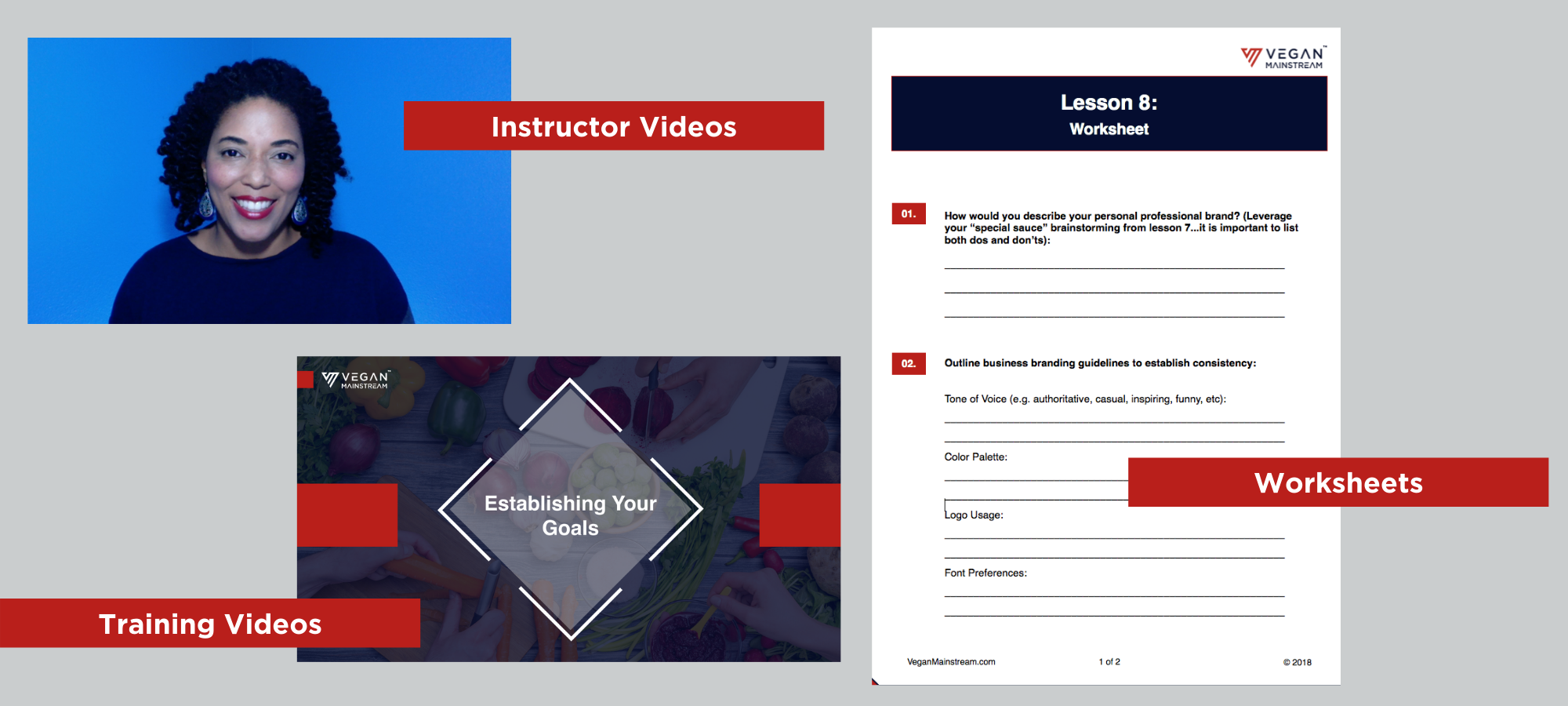 How Do Others Feel About Working With Vegan Mainstream?
I can attest to Stephanie Redcross and her valuable contributions to helping me take my business to a new level. She has so much knowledge and provides you with the tools and motivation to get you where you want to be. AND she is super approachable and friendly. Can't say enough in the positive realm.
-Chris Kalinich, Plant 2 Platter®
Having Stephanie in my corner was the best business decision I made in 2018! With her expert guidance, I ran a hugely successful first-time launch with an affiliate partner for my flagship course. Her skilled coaching and hands-on support make her one of my go-to resources for getting things done. If you want your operations organized, your marketing laser-focused, and your bottom line increased, I wholeheartedly recommend Stephanie with Vegan Mainstream.
-Katie Mae, The Culinary Gym

I had the pleasure of working with Stephanie Recross to help me with a variety of my business needs. It's quite amazing how many areas of expertise Stephanie has — and not just on the surface. She was able to help me with questions I had about overall business strategies, as well as marketing, online courses, email campaigns, and event organizing. But more than her technical skills, Stephanie blows me away when it comes to how present she is, how well she listens, how well she understands. Her follow-up is incredible, her professionalism is impeccable, and her compassion is authentic. I can't recommend Stephanie highly enough.
-Colleen Patrick-Goudreau, author, speaker, podcaster
Whether you are feeding or teaching the masses, you can't change the world if you aren't reaching students.
Stop for a moment, and imagine you could…
Create an actionable plan for marketing and sales, one that helps you fill your cooking classes effortlessly, every time.
Hit your financial targets on a consistent basis, taking the worry out of running your own business.
Build and implement a business structure that will allow you to spend more time on what you really love doing -- developing classes and teaching them!
Manage your time and resources with ease to reduce stress and help you find a better work-life balance.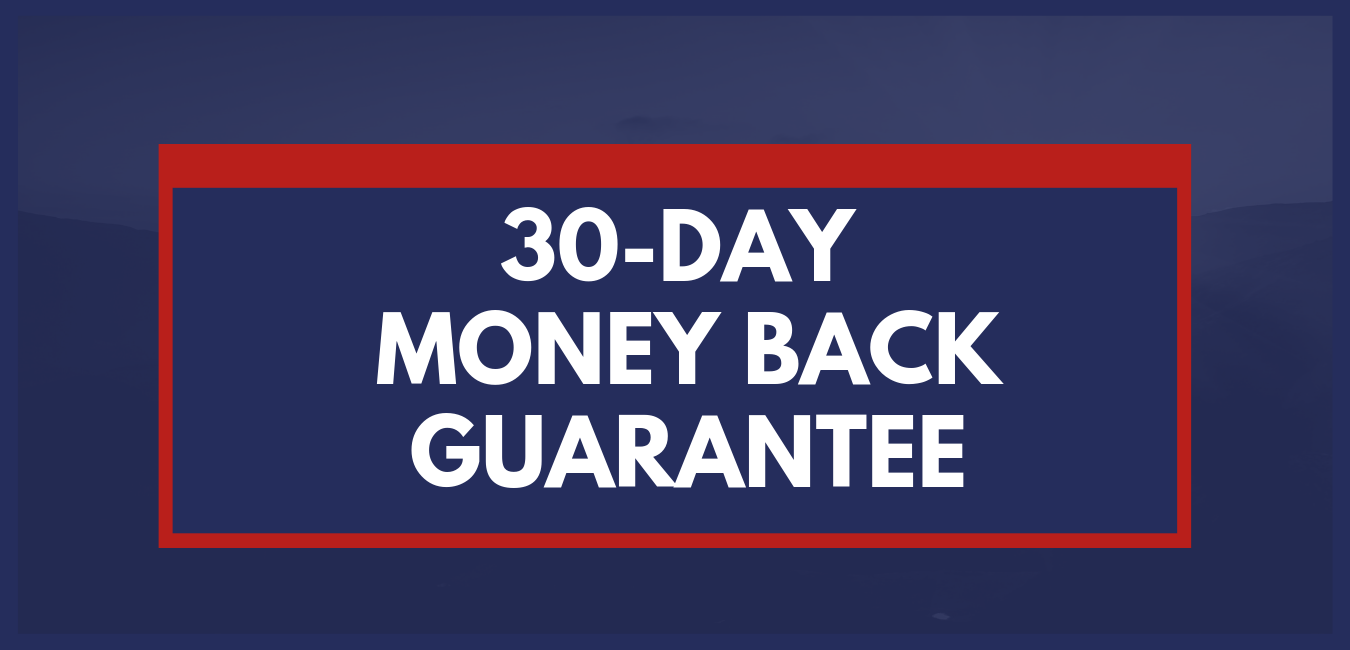 Why Vegan Mainstream?


Vegan Mainstream has been helping vegan entrepreneurs build successful businesses for close to a decade. We know the passion it takes to work in the vegan business market, and the unique challenges and opportunities that vegan business owners face. The vegan cooking world is expanding exponentially, and we love helping those who want to ride the wave find their feet!
This course is perfect for anyone who teaches or organizes cooking or nutrition classes.

Wondering what kind of support you'll get?
We've got you covered.
If you have questions at any time while you are working on the course, you can add them to the comments section of that module, and you will get an answer within 48-hours
Plus, the following hands on support is included in the cost of this course:
30-Minute Kick-Off Consult: Each student will receive a 30-minute session with instructor Stephanie Redcross West. This is designed to ensure you get the most out of the course.
Monthly Group Check-In Call/ Office Hours: Twice a month we host group check-in calls. Join in to get your questions answered and provide input on future training!All new students get free 30-day access to our live sessions. There will be a total of four sessions per month.

Access To Premium Podcasts For Students: Each month we publish two podcast episodes that are exclusively designed for our students. These premium podcasts feature current marketing trends, issues, or challenges that you should be aware of as a vegan business owner.
Remember that bravery is not the lack of fear, but the ability to move forward in spite of fear.
Let's take a look at what you'll learn in each module:

MODULE 1: Reaching New Heights
4 Lessons; 20 Videos, 4 Worksheets

This first module is all about designing a cooking class model that sets you up for success. These lessons will help you to understand the industry around you, and to establish your presence and impact within that scene. This understanding is critical if you want to market and sell your services successfully.

MODULE 2: Reinventing Your Approach
5 Lessons; 26 Videos, 5 Worksheets

Whether you need to tweak your approach, or start anew, in this module you will learn how to set your business up for maximum impact, how to take things to the next step so you can reach more people with your message, and ideas for making your business more financially stable long-term. And you'll work on making these changes in a systematic, consistent way.

MODULE 3: Scaling Up
6 Lessons; 32 Videos, 6 Worksheets

You've got the basics down, but in order to see true, sustainable success and growth in your business, there are things you will need to do to ramp things up at the appropriate time. In this module you'll learn about strategies for increasing your visibility, marketing tips and tools that are specific for cooking instructors, business set-up tips that will make you more efficient, and how to grow your student list.

MODULE 4: Leveraging Your Time
7 Lessons; 39 Videos, 7 Worksheets

Time management is one of the biggest challenges for any business owner, and it's a critical piece to gain control over before your business can be sustainable. So the lessons in this module cover ideas on how to get it all done -- leveraging your time for full advantage, project management, and more.
In This Course You'll Learn How To:
Make more money by diversifying your class offerings

Establish incentives and early bird promotions to sell tickets sooner

Find students daily, weekly and monthly

Build effective promotional campaigns

Automate your marketing methods

Create a project plan so you can get the work done

So much more...
Still wondering if this course is for you?

We want to make sure that this course will be of benefit to you, so we have put together a few preview lessons that you can check out now for FREE!


These lessons will give you a feel for the way the course and platform work, and for the type of content you can expect.

Access the free sneak peek of The Savvy Instructor
Your Instructor: Stephanie Redcross-West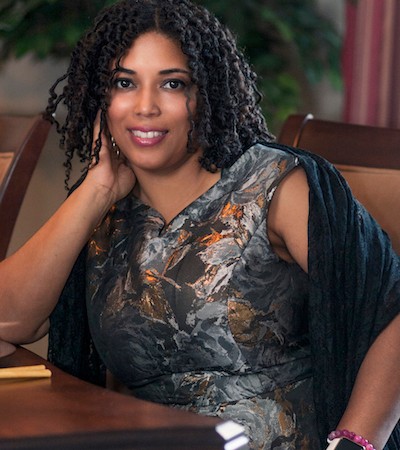 Stephanie Redcross is the Founder and Managing Director of Vegan Mainstream, a unique marketing consulting company especially for vegan entrepreneurs and professionals.
Since 2009 Stephanie has been developing tools, training and support for the brave individuals who are starting and running vegan businesses all over the world. She was well-equipped to do this, with more than 15 years of marketing experience with small businesses and Fortune 500 companies.
Since then Stephanie has been a frequent speaker at vegfest, conferences and even her own bootcamp series. Through these types of engagements, and her day-to-day work with Vegan Mainstream, Stephanie inspires others to turn their vegan passion into successful businesses.
How It Works:
You might be thinking, 'this sounds good, but what does the course actually LOOK like? What you can expect:
Course content includes online training videos, written materials, to-do lists and case studies

Access to all course content when you sign up through an easy-to-use learning platform (you will have access to the platform for a total of 24 months)

Each module includes a comment section where you can ask questions or make comments about what you are learning

Email reminders to keep you on track and inspired!

Access to an online project plan, which will help you track your progress during the course

Access to online forms, documents and checklists to help you stay organized

Guidance on best tools and software to use for the tasks at hand
Course Curriculum
Getting Started
Available in days
days after you enroll
MODULE 1: Reaching New Heights, Establishing Your Presence & Impact
Available in days
days after you enroll
Module 2: Breaking The Mold -- Reinventing Your Approach To Your Next Cooking Class
Available in days
days after you enroll
Frequently Asked Questions
What format is the course content delivered in?
Our course content includes a variety of formats, including online training videos, written materials, to-do lists and case studies.
When does the course start?
Students can enroll in the course at any time; it is designed for you to start and proceed at your own convenience.
How long do I have access to the course?
The course will be available to you for 24 months following your sign-up date in case you need a refresher or would like to revisit any of the training.
What if I need more help, can I get some personalized advice?
This course comes with a 30-minute consulting session with Stephanie Redcross-West, Managing Director of Vegan Mainstream and popular business coach. Once you purchase the course our team will work with you to schedule a time that is convenient for you and Stephanie. If you need additional sessions, you can always book a consult via our online tool https://consults.veganmainstream.com/
How is this course different from other business training courses I can find online?
We work with entrepreneurs who are looking to move the vegan movement forward through successful vegan business ventures. For that reason we look at the business world through a specialized lens, and are able to help people from this unique vantage point. We know there are plenty of business training platforms available online, but what we offer is expertise and experience specific to the vegan business world. We love the passion, determination and commitment of people who want to make this world a better place, and we think that's a pretty amazing thing to support!
Can I get a refund if I'm not happy with the course?
Our goal is to help vegans succeed in business. If you sign up for this course and DON'T find that it helps you, just send us an email in the first 30 days to let us know why it didn't work out, and we'd be happy to give you a full refund.